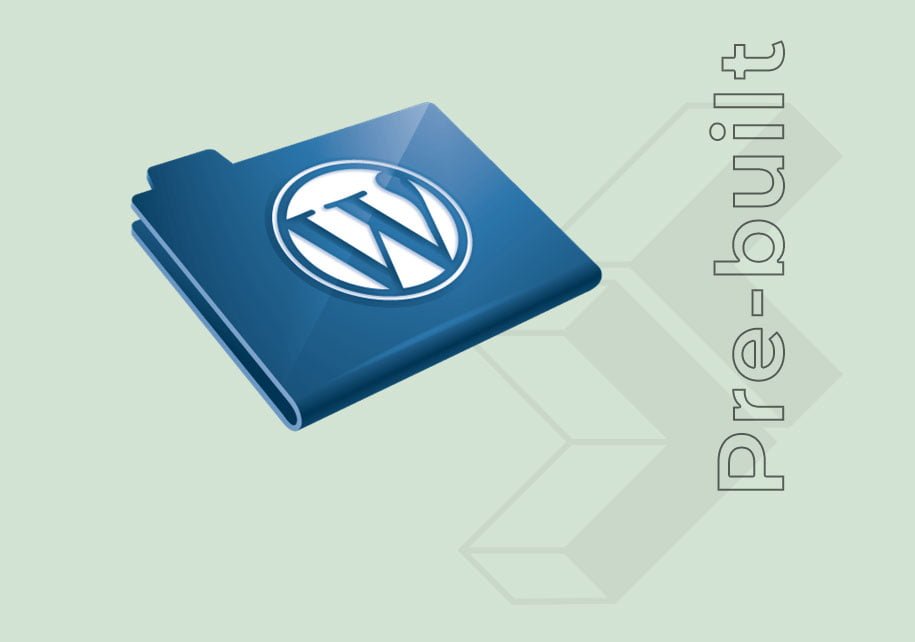 WordPress is the most widely used content management system on the market. And as a result of this popularity, a thriving ecosystem of theme developers and theme foundries has sprung up, selling or even giving away themes in droves.
A search for the term "WordPress themes" yields nearly 901 million results. An "off-the-shelf" theme is any pre-built theme that you can download from the Internet. This is due to the fact that you can grab it off the shelf and have it up and running on your site in a matter of minutes.
It appears to be a tempting offer, but should you use an off-the-shelf theme for your company website as a business owner? Wouldn't it be better to invest in a custom theme instead?
Advantages
Lower price
Many high-quality off-the-shelf templates are available for free. Premium themes that are suitable for a basic portfolio or simple eCommerce site are usually very affordable — expect to spend $50 for a theme that is suitable for a basic portfolio or simple eCommerce site.
The initial investment is minimal. However, think about how easy it will be to set up and what additional costs you'll face if you need to customize it.
Website build time
We can set up a pre-packaged website for you very quickly if you have simple requirements and ready-to-go content.
This is useful if you want to test an idea without investing a lot of money, or if you're starting a business and need to get something up and running quickly.
It's a positive step forward.
There's only one thing that's worse than having no website at all: having a terrible website. Your brand will be harmed if your website stinks. There's no doubt about it.
An off-the-shelf solution will not fulfill all of your requirements. However, if your budget is limited, it will make it easier to put together a website that is acceptable. As an added bonus, having a live website will provide you with data that you can use to improve it further.
If you don't have the budget for a custom theme yet, you can at least get started. However, keep in mind that it isn't the best long-term solution.
Disadvantages
What was promised was not delivered.
Off-the-shelf template screenshots are frequently stunning (especially the premium ones). However, keep in mind that these are just marketing materials and not a live business website.
It's another matter of how the theme will look once your branding and content have been crammed into the layout. And there'll always be something your pre-made theme can't do. This leads us neatly to…
You'll have to make some concessions.
Every website design and build must include some form of compromise. When using a pre-made template, keep in mind that it wasn't designed specifically for your company; rather, it was designed to appeal to a broad audience.
It can be difficult to find an appealing theme that is suitable for your needs, mobile-friendly, SEO-optimized, and offers the right level of customization options. It's easy to lose track of time just looking for the right theme. That's time that could be better spent on creating the right one.
Something has to give most of the time. So keep that in mind if you're debating whether or not to pay more for a custom WordPress theme.
Changing typefaces, color schemes, and adding your own custom logo and background is simple enough with a good pre-packaged theme. If you're lucky, you might even get a choice of different page layouts.
However, if you want to make more fundamental changes to the design, you'll have to pay extra for customizations. The cost of doing so can quickly mount up. Commissioning a bespoke theme may be more cost-effective if you have specific requirements.
Lack of flexibility
There are some fantastic free off-the-shelf themes available, including Parabola. I've previously used this theme to create a website for a client. My client was pleased with everything it could do, with the exception of a few details that it couldn't handle.
We came to an agreement that I would create a child theme. This is a good middle ground between a custom build and a template.
The disadvantage is that depending on the nature of the changes required and how well put together the theme is, the cost of this approach can quickly escalate. Some are far superior to others; trust me when I say that some people's code stinks!
This is compounded by the fact that everyone codes differently. When I create a custom theme, I understand the code completely.
When I work with other people's code, however, I have to figure out what their intentions were, which bits go where, and why they're doing what they're doing! This usually takes a significant amount of time compared to the perceived value of the end product.
Future-proofing options are limited.
It's also a good idea to consider your future needs. Now, an off-the-shelf template may appear to meet all of your requirements. But what about six months from now, when your company has grown or changed course?
As my client's website takes shape, I frequently find that the scope of the projects I work on expands steadily. As the process progresses, they realize the full potential of a website for their company. It is at this point that they realize that a custom-built solution is exactly what they require.
Lack of individuality
It's critical to create a distinct and consistent brand, and your website is a great place to either reinforce – or ruin – your branding.
One of the biggest compromises you'll have to make if you choose an off-the-shelf template is not being able to have a truly unique website.
The most popular off-the-shelf templates are usually the best. And, given a large number of WordPress websites available, you're likely to end up with a site that looks a lot like thousands of others. Some of those websites could even be your competitors'…
Support can be hit and miss
If you use a free off-the-shelf theme, don't be surprised if the theme author is unable or unwilling to assist you with any issues that arise.
Many theme authors do so as a pastime. That's fantastic for them, but if your business relies on a fully functional website, you may need to hire a developer to fix the problem. This is when you'll be glad you have a dependable WordPress developer (ahem) on hand to assist you.
Conclusion
I know which option I would choose if I were buying a website. For blogs and personal websites, off-the-shelf themes are ideal. They're also a cost-effective way to test an idea or get your foot in the door when you're just starting out.
If you're serious about your business, however, you should also think about investing in a custom WordPress theme.
We're happy to assist, and we don't believe in pressuring customers into purchasing items they don't want. So get in touch with us and we'll go over your options.